Lifer

Posts: 5561
Joined: Wed May 02, 2012 5:48 pm
Location: Newcastle upon Tyne
jimbo1958

wrote:

↑

Fri Jul 14, 2017 1:14 pm

paulgs1000

wrote:

↑

Fri Jul 14, 2017 11:53 am

Yep, fearless Jim

I'm amazed any make it to the end with all those jumps

That's a great photo (above) for you and the driver to keep

Cheers Paul....that's 3 times that rolling chassis has competed now with only minor fettling required after each event.

Hope you and Steph are both well. Best Wishes.
That's an achievement - three runs - you should be well pleased that it's stood up to so much abuse!
Steph and I are fine thanks - hope to see you at Zedfest
Imola Red/Imola Red ///M (Ultimate fun), replaced 2008 3.0si Sport Stratus Grey/Piano black (Serious fun) replaced 2006 Silver Grey Facelift 2.0i Sport (terrific fun). MX5 for many years, TVR Chimaera and many motorbikes.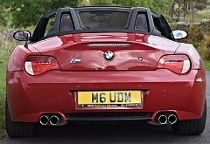 ---
paulgs1000
Who is online
Users browsing this forum: Google [Bot], Paulr and 10 guests