Lifer

Posts: 5591
Joined: Wed May 02, 2012 5:48 pm
Location: Newcastle upon Tyne
+4 Yep - Wales Run sounds great Craig/Sammyz.
Add Paul and Steph to the list.
Imola Red/Imola Red ///M (Ultimate fun), replaced 2008 3.0si Sport Stratus Grey/Piano black (Serious fun) replaced 2006 Silver Grey Facelift 2.0i Sport (terrific fun). MX5 for many years, TVR Chimaera and many motorbikes.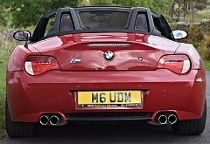 ---
paulgs1000