Not sure if this has already been done - couldn't find a decent guide, so hope the following helps;
Part numbers for OEM LED rear number plate lights and connectors;
Connectors; 61138365340 x2
Lights; 63267193294 x2
First of all, take the old units out - they pivot from the left, so take your flat head screw driver (protected with a cloth) to the right side and remove.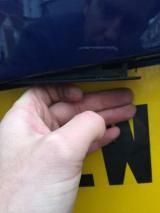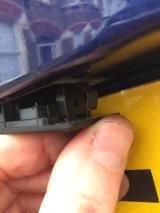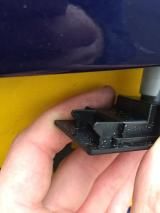 Once hanging down by the wire, disconnect the connectors and you'll see how they are different;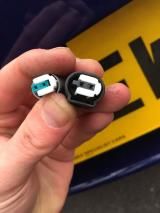 You need to look at the back of the original connector for a tab. Lift this up with a small screw driver and pull the sleeve of the connector back up the wire like so;
Next remove the white locking collar which just unclips using your nails;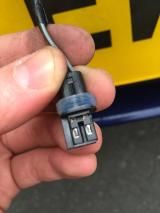 Then, from the above photo, you can see that the pins at the end of the wires have a slightly raised barb. Push this gently and pull back the wires together (again, gently) and the pins will release from the plastic connector;
Reverse the process with the new connectors and should end up with;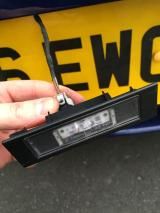 And lights on;
(iPhone makes it look yellow, also thanks to the crap Photobucket quality).