Lifer

Posts: 5589
Joined: Wed May 02, 2012 5:48 pm
Location: Newcastle upon Tyne
If it's your thing then riding a bike is very special and I'm not surprised that Z4 owners are bike riders too - 3 Suzuki GS1000s over the years then after a Dutch driver pulled onto the A1 in front of me (whilst turning into oncoming traffic!) and totalled my beautiful 1993 Triumph 1200 Daytona, I took a mates advice and bought a drop top (MX5) - good call - great car and good fun. Then came the Zed 4 - even better car and more fun! Still needed and wanted a bike - anything!
The Daytona got replaced by a variety of bikes - some you may have heard of, some not!
1967 Velocette LE - bought to show (not very much go but technically brilliant and like new in chrome and black)
1973 Triumph TR6 Tiger Cafe Racer - very uncomfortable but wonderful looks and noise - converted to a
1972 Triumph Bonneville - a lot easier to ride but still with the noise and lovely 650 twin engine. Fun but not for modern traffic so -
Honda VFR 800i immaculate build quality but I couldn't get on with it - surprisingly so Suzuki 650 Bandit - far more comfortable but lacked soul and performance.
Owned a 1944 BSA M20 and Sunbeam S8 for a short time this year also and still have the 1972 Triumph 650 twin - love the looks and the noise.
Imola Red/Imola Red ///M (Ultimate fun), replaced 2008 3.0si Sport Stratus Grey/Piano black (Serious fun) replaced 2006 Silver Grey Facelift 2.0i Sport (terrific fun). MX5 for many years, TVR Chimaera and many motorbikes.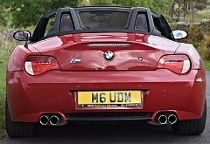 ---
paulgs1000