Calling all zed enthusiasts…
Following the huge success of the inaugural
BMWCCGB zedfest in 2012
I am pleased to announce that there will be another in 2013! The BMWCCGB are once again hosting a zed festival at the Silverstone circuit and it will be a feature event in the
Silverstone Classic
weekend. As last year, the BMW Car Club Zed Register is providing the unique opportunity to bring the whole zed family together for one weekend. We are endeavouring to gather as many zeds together as possible that will culminate in a parade lap of the circuit at approximately 6pm on Saturday 27th July. The BMWCCGB is also hosting an ///M-fest at the event so, alongside our zeds, it will be a fantastic spectacle!
The Silverstone Classic booking office has now opened and we have received a club discount code (
C13225
, link to booking page
here
) to enable zed owners displaying their cars with us on the special BMWCCGB area to receive buy one, get one free adult entrance tickets (ensure that you select one of the 'CCM PACKAGE' tickets). As well as the entrance tickets you'll receive an infield display parking pass at the lowest possible purchase price up until March 31st. Note that you will need to nominate the car you will take, as the model and the registration number will be pre-printed onto the pass. Have these details available when you make your booking.
In addition to discounted entrance tickets our friends at zroadster.org have kindly agreed to organise accommodation discount for zedfest 2013 participants and coordinate a mass convoy to Silverstone. Details
here
. In addition, we can take advantage of an Indian buffet on the Saturday evening at each of the Holiday Inn Express hotels for £13.95 per person. We'll have a dedicated room set aside for us and it should provide an excellent opportunity to catch up on the day's events when we return to the hotels after the parade lap. I'm sure you'll realise that in order to make this viable I need to know whether you're going to stay at one of the nominated hotels and if you will use the buffet. Please let me know on this thread and I'll coordinate with the organisers.
If you're not going to stay at one of the hotels then you can still take advantage of the cruise to the circuit by meeting up at either Holiday Inn Express Milton Keynes or Northampton and grab a bite of breakfast before we leave. The cruises will leave Milton Keynes at 8am, go via Holiday Inn Express Northampton before departing for Silverstone at 8.30. Take a look at
this video
to whet your appetite.
I'll keep this first post up to date with participant details and will advise of numbers registered from other forums too. Remember to keep an eye on this thread for updates of what to expect on the day. Keep your diary free for the last weekend in July 2013, it's gonna be great!
Confirmed attending:
1. myredzed – z3 2.8 roadster
2. Hizza - e89 3.0i sDrive
3. neilthomas - e85 3.0i roadster
4. Jembo - e85 3.0i roadster
5. Maniac - e89 35i
6. bobby69 - e89 2.0 mSport
7. Stuart Truman - ///M roadster
8. Machine monkey - e85 3.0i roadster
9. john222 - e85 2.2Si roadster
10. Bing - e85 3.0Si roadster
11. edzed - e85 2.2i roadster
12. srhutch - ///M roadster
13. BigT - ///M roadster
14. original guvnor - ///M coupe
15. GJC72 - e85 3.0Si roadster
16. jaxZ4 - e85 3.0SE roadster
17. Taz x - e86 coupe
18. TONYMOR - e85 3.0Si roadster
19. Andbikes - ///M roadster
20. RubyBlueZ4MC - ///M coupe
21. paddy wright - e85 2.2 roadster
22. markeg - Alpina roadster S
23. Jonny essex -
24. tomscott - ///M coupe
25. RedSox - ///M roadster
26. Jamie W - ///M coupe
27. Big Red Cat - e85 2.0l roadster
28. LukeMace - e85 3.0 roadster
29. mjgerrard - e86 3.0si coupe
30. 2dogs - ///M coupe
31. ZedFourM - ///M roadster
32. Rayz4 - e89 sDrive 35is
+30 from
zroadster.net
+23 from
zroadster.org
+7 from
z3mcoupe.com
- Update 20 July -
Due to a late change by the Silverstone Classic organisers we've had to revise the BMWCCGB layout. I've taken the opportunity to incorporate feedback received to date and the club has settled on the layout outlined in the diagram below.
Overall circuit plan (BMWCCGB between the numbers 8 and 12 on the diagram, note that the pink/purple area is tarmac, the blue area is grass):
This is how we will arrange the BMWCCGB area and the supporting forums on the Saturday: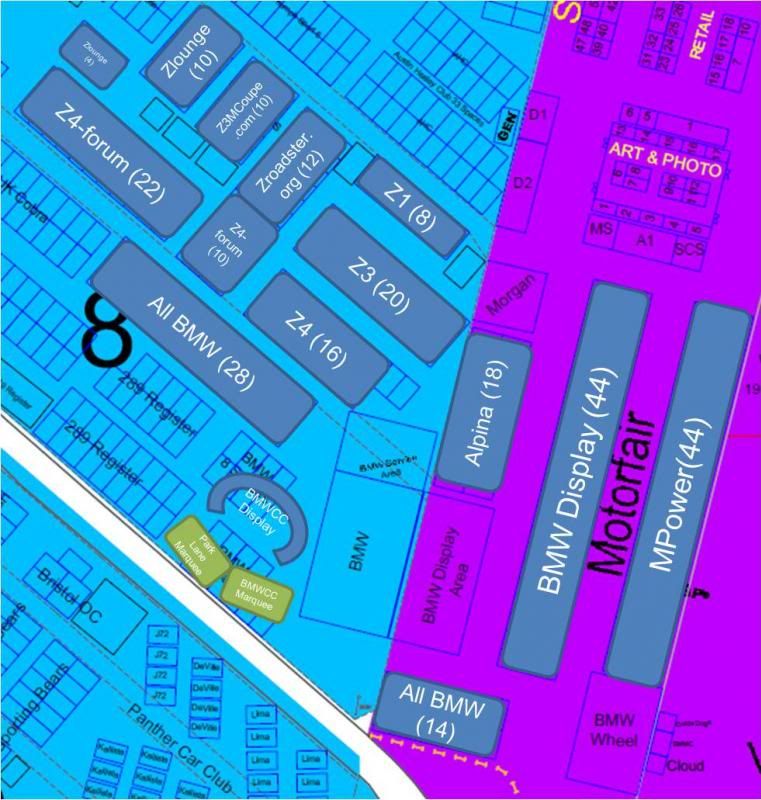 We will marshal participant's cars on each of the days as follows:
Friday
Selected cars plus first come first served on the 'BMW Display' area
MPower cars in the MPower area
Alpina cars on the Alpina area
Fill up the All BMW (14) tarmac area
Everyone else on the grass (no specific forum areas)
Saturday as per the layout diagram (MPower zeds will locate with the other zeds on the grassed area)
Sunday
E30s plus selected cars on the 'BMW Display' area
MPower cars in the MPower area
Alpina cars on the Alpina area
Fill up the All BMW (14) tarmac area
Everyone else on the grass (no specific forum areas)